Creating solutions to combat climate change
Sept 13th - Oct 22nd, 2021

$100,000 Prize Pool
Join the University of Florida and IBM in protecting environmental resources and preparing communities for the impact of climate change.
In 6 weeks, you and your team will build an application in one of our challenge areas that can change the world using IBM AI and machine learning technologies and with support by leaders in technology and climate from University of Florida, IBM, and other partner organizations.
As a hackathon participant, you will be provided with $200 in cloud credits to access to all of IBM's services on the cloud.
Challenge #1 -

Climate Change & Florida Ecosystem
Florida's 8,000 miles of coastline exhibit tremendous natural beauty, attracting tourists and enriching the lives of our state's 15 million coastal residents. Changes in weather patterns, extreme events, deoxygenation of ocean waters, ongoing erosion, and human development are disrupting and degrading our state's coastal ecosystems, including our beaches, dunes, seagrass meadows, oyster and coral reefs and wetlands. Reasons cited for this climate change include emissions problems, lack of proper waste control, and increased development of surrounding areas.
Many are attempting to restore or create new ecosystems to regain these ecosystems and their services. This challenge invites participants to create applications to help with emissions problems, lack of proper waste control, and sustainable development plans.
• Target and reduce emissions in the state of Florida?

• Better collect and dispose of waste?
• Sustain long term development without radically affecting the environment?

Challenge #2 -

Improving the Condition of Florida's Waterways
Florida's springs, rivers, and estuaries define the natural aesthetic of the state and are largely responsible for establishing Florida as the 16th largest economy in the world. However, the physical, chemical and biological condition of the state's waterways are dramatically changing due to climate change, shifts in land use, and population growth. Harmful algae blooms, macro algae blooms, pathogen outbreaks and hypoxia (low oxygen events) are now pervasive in many waterways, threats that are projected to worsen with warming temperature and continued land use change.
This challenge invites participants to find applications to help increase the productivity and optimization of land use and improve zoning laws to promote better land use.
• Target and reduce the impact of coastal land use on Florida's waterways?

• Use land in a sustainable and climate-safe manner?
• Promote better land use through zoning laws?

Challenge #3 -

Sustainable Fisheries

Florida is the fishing capital of the world, with more anglers than any state and recreational and commercial fisheries that are worth over $15 Billion annually to the state economy. Many Floridian's fish or grow/harvest shellfish in our state's rivers, lakes, estuaries and coastal oceans, either for fun (i.e. recreational fishers) or to support their livelihoods (i.e. commercial fisheries and aquaculture). Changes in water quality, water temperatures, aquatic habitat loss (e.g., mangroves, oyster reefs and seagrass), and other global change factors are transforming both the recreational and commercial fisheries sectors.
This challenge invites participants to help both public and private organizations to detect or deter changes in water quality, increasing water temperatures or monitor and aid in reduction of aquatic habitat loss.
• Detect and deter changes in water quality?

• Detect and deter increasing water temperatures?
• Monitor and aid in the reduction of aquatic habitat loss?
Challenge #4 -

Power Consumption

Florida has one of the largest per capita consumptions of energy in the United States. The bulk of this energy is drawn from fossil fuels leading to high carbon emissions. Currently there is a lack of public and private spending and initiatives in the Sunshine State for use of renewable energy resources such as solar and wind.
Participants are invited to contribute to help develop applications for facilitating higher usages of renewable energy sources and optimize for efficient energy usage for all types of resources.
• Analyze and target locations for renewable energy sources?

• Optimize power generation to reduce overproduction?
• Target and reduce areas of inefficient energy usage?
Challenge #5 -

Animal Agriculture

Production of animal products for human and other animal consumption emits 14.5% of global greenhouse emissions. Ongoing global greenhouse emissions continue to contribute to the effects of climate change now and into the future and less demand for meat and other animal products as well as more sustainable animal husbandry could lower greenhouse gas emissions.
Participants in this challenge are invited to encourage reduced consumption of meat and other animal products and find ways to promote more sustainable animal husbandry.
• Target and reduce wastes associated with animal product production?
• Analyze and predict outcomes of efforts associated with methods for sustainable animal husbandry?
Do you have a solution that encompasses more than one of the challenges above? Do you have an idea that is completely out of the box, but still addresses the theme at hand? If so, take on the Wildcard challenge. Participate in the Hackathon to help combat climate change!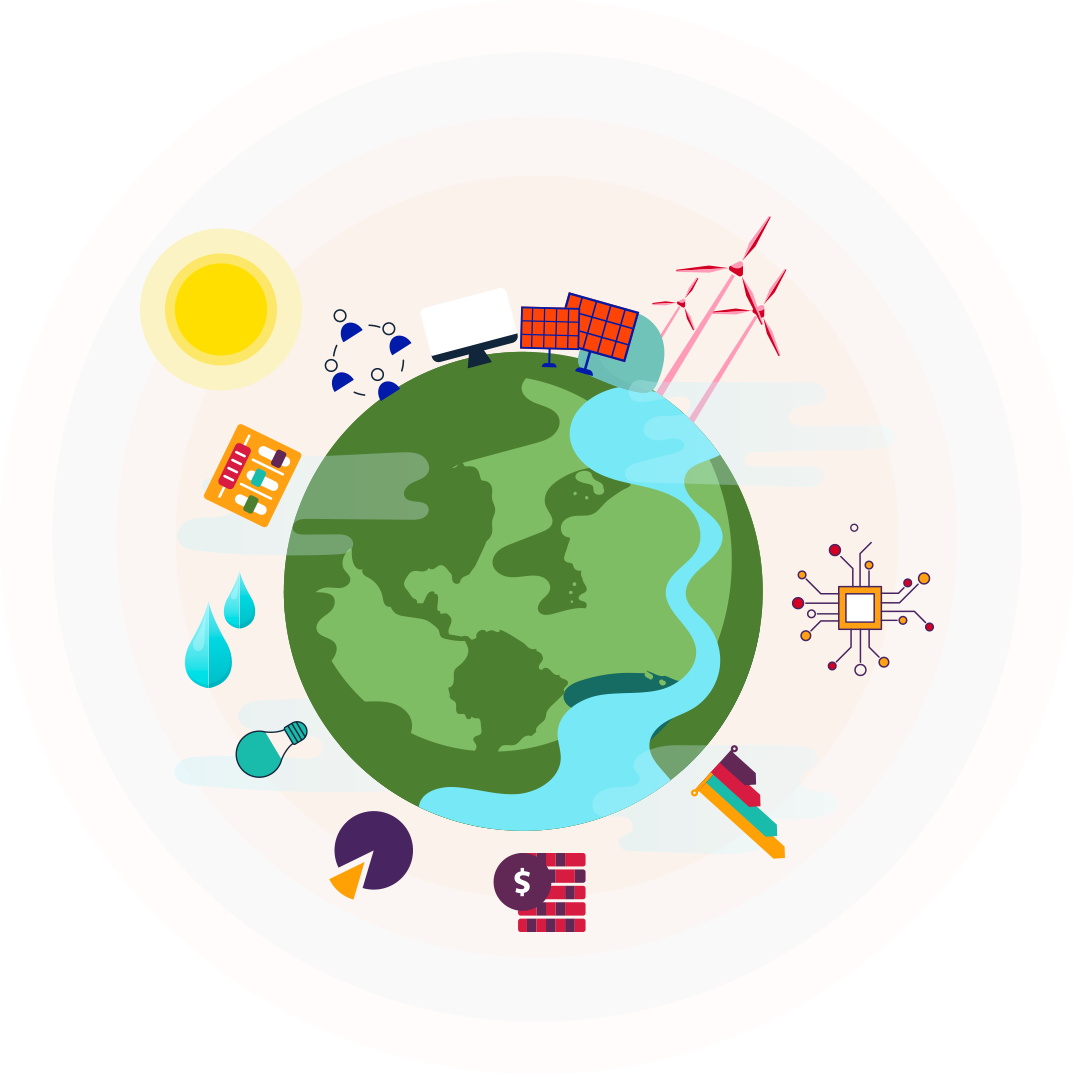 This hackathon is for US residents only. Students, developers, entrepreneurs, designers, skilled individuals, and even first time hackers are encouraged to join the Florida Hacks with IBM Hackathon! Please note that the participation age for this hackathon is 16 years and older. Individuals who are under 18 years of age will require a signed parent or guardian consent form. Failure to do so will disqualify an individual from participation.
To learn more about eligibility, please review the Official Rules. • Will this solution have an impact on the environment?
• Is the project creative, innovative and disruptive?

• How has the team effectively utilized the available technologies?
• How easy is the application to use?
• How advanced is the prototype presented?

Challenge Fit & Feasibility:
• How relevant is the project to the stated challenge?
• Is the solution possible, or just nice in theory?




Challenge Category Prizes: $20,000

• 6 challenge category winners will be awarded with $3,000 for their team.
• The challenge categories align with each of the challenge statements.
• One team will be awarded with a $2,000 prize for the best "first time hack."

Submission Incentive: $4,000
• The first 20 teams that submit qualified projects will receive a $200 Gift Card for their team.
• Earn points by watching live webinars, video replays and interacting with mentors through 1:1 mentor calls on the event platform.
• The top 10 individuals with the highest scores will each receive $1,000 each.
Social Media - Tik Tok Challenge: $1,000
• Create a Tik Tok video showcasing your project and climate change.
• The winning team with the most likes takes home a $1,000 prize.
• Be sure to utilize the event hashtag! #FloridahackswithIBM
Top three teams: HiPerGator AI Access
• The top three teams will be granted a three-month allocation on the University of Florida HiPerGator AI supercomputer to work on a project of their choosing.
• The size and start-date of the three-month period of the allocation will be determined with the winning teams from the project they propose, which can be independent of the project they worked on during the hackathon.
*Prizes are to be equally divided amongst team members unless otherwise specified.
Project Development Timeline – September 13 - October 22, 2021
Pitch Practice / Crash Test Webinar – Monday | September 13 @ 11:00 am PT
Join us for a live webinar to share your project status, interact directly with mentors and get valuable feedback!
Monday, October 18 - Individual registration for the hackathon closes at midnight.
Thursday, October 21 - Team Registration closes - all teams must register their team on the event platform by midnight.
Project Deadline – Friday, October 22 @ 9:00 pm PT
All final presentation videos and projects must be submitted by 9:00 pm PT in order to qualify for the hackathon. Late submissions will not be accepted.
Post Event – October 26 - 31
Judges will review projects.
Winners Announced – Tuesday, November 2
Hackathon Overview and Challenge Review
Join this webinar to

form teams live!
10+ Challenge Overview and Technical Webinars
The University of Florida (UF) is leading the effort to increase the visibility of Florida as a tech-forward state. Teaming up with IBM, the University is promoting a US-wide hackathon. The UF/IBM Hackathon will generate awareness around University of Florida's AI technologies and the State of Florida's innovation initiatives.
The University of Florida is seeking to engage national talent to develop novel solutions to climate change/environment-related problems, specifically those facing Florida, using IBM technology. Registrants are invited to participate on diverse teams and join the IBM Data Science Community. This is an opportunity for coders and non-coders who are not afraid to take risks, explore the unknown and find solutions to combat climate change. The UF/IBM Hackathon will provide a foundation of support by offering mentorship throughout the competition and giving access to courses in IBM's AI technologies.
UF is tackling some of the toughest problems and in search of even tougher ones. UF invites hackers to make a greater difference, one felt not only by the citizens of Florida but also worldwide.
The University of Florida is a public land grant research university in Gainesville, Florida. Its mission is to prepare students to lead and influence the next generation and beyond for economic, cultural, and societal benefit. Recognized as among the top 10 public universities by U.S. News and World Report, UF is the only member of the Association of American Universities in Florida. The Herbert Wertheim College of Engineering at the University of Florida, is one of the most dynamic engineering Colleges in the nation and is the cornerstone of the University of Florida's AI University initiative. The College of Engineering features the Center for Coastal Solutions, which leverages data scientists, biological experts, legal and engineering minds to improve Florida's environment, economy and public health.


In line with its pledge of responsible stewardship in the digital age, IBM is proud to be a partner in the UF/IBM Climate Change Hackathon. Everyday, IBM data scientists and researchers build solutions for a more sustainable future. By partnering with the University of Florida, we encourage others to help meet the challenges that climate change presents both locally in Florida and around the globe. With Watson Services and APIs, IBM offers participants a chance to leverage transformative technologies for developing tools with real world impacts.
The Florida Technology Council is the driving force behind Florida's rapid growth in the technology sector; connecting and empowering Florida's technology community. As Florida's exclusive statewide trade association for science and technology companies, the Council is recognized as having a diverse professional membership among the business community. Council members work toward furthering the advancement of technology in Florida through leadership, education, legislation, and social action. All Council efforts are focused to create a better, safer, stronger and more efficient Florida.
With an office located at our state capital of Tallahassee, and speaking engagements and meetings throughout the state, the Council is Florida's only statewide organization focused exclusively on the needs and priorities of the Sunshine State and it's expansive technology sector. The Council is a professional networking organization that provides education and membership connections for the technology business sector. Providing member companies with marketing opportunities, educational events, and pursuit of business-focused legislation to enhance Florida's IT climate, the Council ranks as one of the most influential technology organizations in the state.
With Florida's climate change concerns continuing to grow, the Council was quick to partner with IBM and the University of Florida to launch UF Hacks with IBM. As a statewide leader the Council has the ability to bring industry leaders to the table who understand the power of innovative problem-solving and risk taking. Hackathons are a proven way for people in the same industry to come together and learn from each other's successes and failures in an environment where both neophyte and expert can meet, collaborate, solve problems, share skills and help build a better future.

Reach out to the BeMyApp team for any registration, hackathon platform or support questions!

BeMyApp ©2021 - All rights reserved.